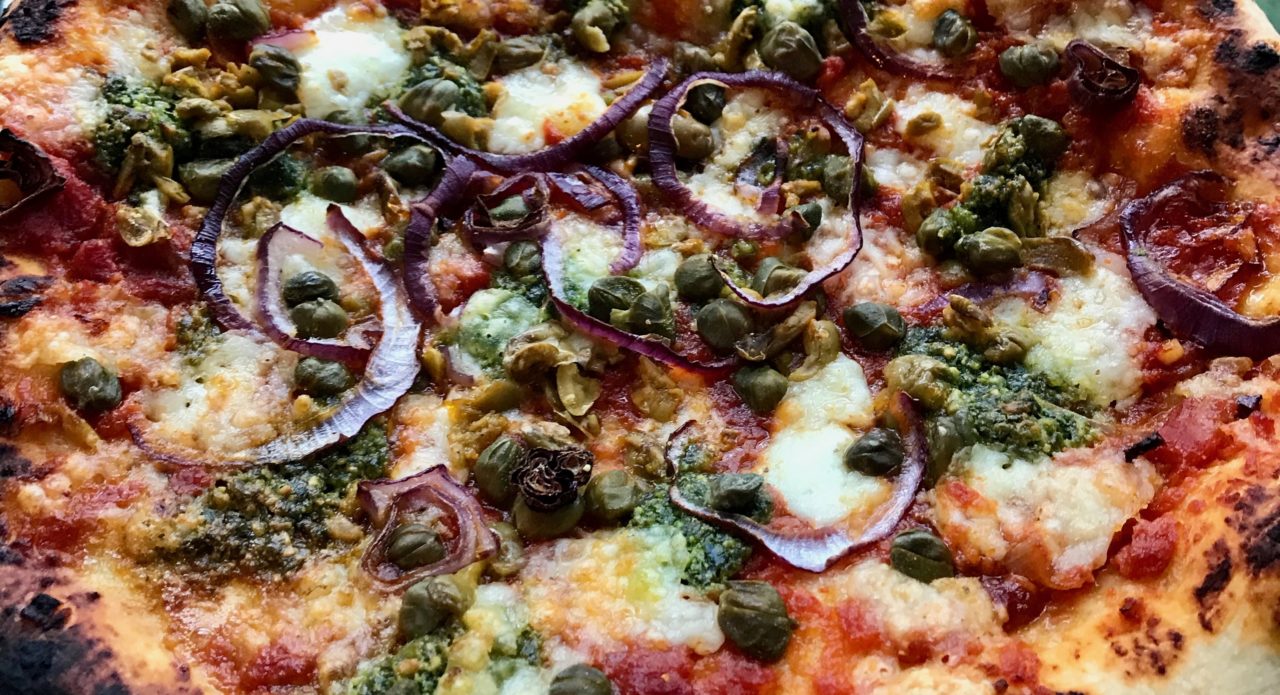 Reminiscent of ye olde hipster guides to stuff surrounding film photography by André Duhme and me, I will now tell you and your line drawn tattoos about pizza. The amazing, filling, glutenous, beautiful, Italian (New Yorkian) dish that will not only feed you but will make you think that you should stop shooting film and invest all your money into an artisan pizza place.
If you're unsure if you actually want Pizza, watch a few episodes of "The Pizza Show". You're hungry now? Great. This recipe will give you two beautiful pizzas.
Here's what you'll need:
For the dough
1 Bag of Type 00 flour – less finer flour will FUCK THE RECIPE UP!
A lump of fresh yeast – for extra effort use the sour dough starter you haven't touched since your first miserable attempt at baking bread
A tin can of at least 50 $ Olive Oil – Make sure it's intense and hot to the taste
Fine Salt – Alternatively you can and probably should, grind some kosher salt with a mortar
warm (but below 32°C) filtered water. Just steal some of the dispenser at your wework
For the sauce
2 cans of whole San Marzano tomatoes – the uglier the can, the better
Dried oregano
Maple syrup
Garlic cloves – if you decide to use dried garlic you can fuck right off
Red onions because they're the best
A bottle of Primitivo from Puglia. Make it two – it helps with anxiety
For THE topping (there is no other topping)
Some homegrown Basil leafs
A jar of anchovies, because fuck Linda and her seafood allergy
A jar of capers – learn to love them like you learned to drink mate
A chunk of old (preferably ultra aged) pecorino – because you know you can afford it (If you can't, get your priorities straight and come back later)
Real bufala mozarella
If you're allergic to any of these items – woman/man up. This is not a game. This is making pizza that has to blow your second hand ellese sweatpants off. Sure, you can supplement whatever you want, but pizza will never adept to you; rather should your lifestyle reflect your love for flat, italian foods.
We start with making the dough. Go to your grandmas house, pay her back some of your inmeasurable debt, and steal her apron. Shit's about to get messy. Now wash your regrets and any other dirt off your hands.
Mix about 400 grams of flour with 15 grams of salt. Crumble some yeast (about a third of a 40 gram block) into a glass and pour over with some warm water. Make sure its not warmer than 35°C or you will kill the bacteria just like you killed your nostrils that one time at Coachella. Stir a bit and let it sit for a few minutes to activate the yeast. Add the yeast, a generous splash of olive oil, some maple syrup and about 250 ml of warm water to your flour-bowl. Begin to stir gently with your finger. Then use your hand and start kneading. If you feel like your dough is too wet, add more flour. If it's too dry, add more water. Go for a consistency that roughly resembles that of your 70s shaggy-carpet, 1 hour after you spilled some espresso on it. You know what I mean. A little bit sticky, but not all that wet. Knead for about three to six minutes. If you overdo it, you'll fuck it up. If you underdo it, the gluten won't be sticky enough – aka: you'll fuck it up. Now you put a wet dish towel over your bowl and place said bowl in a warm spot.
You don't have anything else to do. Why not put it in between your legs. Now is the time to be patient. Go out, spend your remaining money on almond-milk-latte. Order in italian. Repeat after me: "Sono un completo idiota. Strappami, per favore." You've done great. Feed the pigeon in the park. Watch you life pass before your eyes. Write about it in your instagram story. Add it to your highlights. Dwell on it.
At least 4 hours have passed and you may continue. Go home and make that sauce.
Slice and dice the onions and chop the garlic. Add some oil to a sauce pot and add the garlic and onions to said hot pot. Let them glace a bit, then add about one generous splash of primitivo. While the sauce base reduces, drink the rest of the bottle. Ignore your sadness and open the second bottle. You feel great. Open the tomato cans and pour their contents into your pot. Add some salt and pepper and let it simmer for about 45 minutes on mid to low heat. After three episodes of friends your remember your sauce wich is now nice and thick. Take your wooden spoon and gently mash the tomatoes in your pot. They should be crushed just as easily as your last pay check.
Add some dried oregano and maple syrup. Then take off the heat.
Let's have a look at the dough. Has it risen? Has it doubled in size? It should. If it didn't, you probably fucked something up. From here on you need to be gentle.
Generously dust your work surface with flour. Then let your dough drop on it. Cut your dough in 2 halfs and form two dough balls. Then wrap them up in some foil and put them in your fridge for about 30 minutes to an hour. Cooling the dough will help it being nice and firm for what's about to come.
Preheat your oven for 45 minutes to whatever is the highest it will go. It really doesn't matter how high. No normal oven is hot enough for a perfect pizza, but 250°C and above will make a good one.
Meanwhile, place the two balls back on your dusted surface and let them adjust back to room temperature for another 20 minutes or so. Then take one ball, place in the middle of your surface and gently press down on it using only your fingertips. Do this, forming a flat round pizza base, but don't squish down on the edges. You want your crust to be much higher that the base. Continue to press. Be gentle. Be good. If you feel adventurous, take the disc and stretch it over your knuckles in a rotating motion. Gravity will do the rest. Think of Neil de Grass Tyson. You feel tiny, in the vast endlessness of the cosmos. "Hey Siri. Play: This American life." Perfect. Your disc is now about 25 centimetres in diameter.
Take your metal oven sheet and over some parchment paper place your pizza. Then put it in the oven for about two or three minutes. It should rise a bit and firm up on the surface. This will help making the dough not soak through but hold your sauce. Pull the sheet out. Take several scoops of sauce until your pizza is covered in it. Add anchovies, mozzarella and capers. Place back in the oven. To get your pizza baked perfectly. You must rotate it through different stages in your oven. Start at the bottom. Then the middle until almost golden and finish with some grilling action at the very top, so some burnings form. Take out your pizza and top off with some basil, shards of pecorino and a splash of olive oil. Add oregano.
Put the pizza aside and do a 5 minute headspace session. You feel rested.
Slice the Pizza, fold New York style and flip the tip up into the middle.
Take a bite and know that you have achieved nothing in your life but this. This is the pinnacle of you as a human being. Finish and prepare the second pizza.
You are now wholesome. Congratulations.